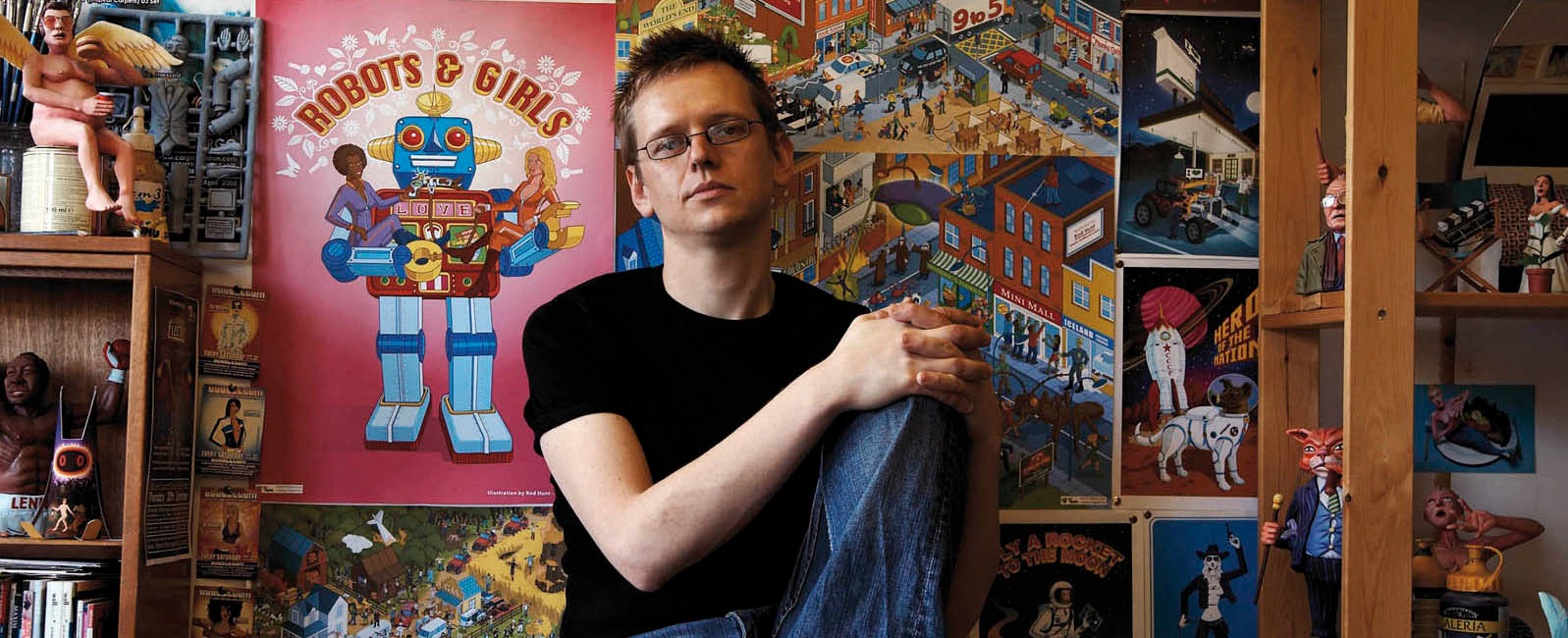 Rod Hunt
is an award-winning London based Illustrator and artist who has built a reputation for retro tinged Illustrations and detailed character filled landscapes. With UK and international clients spanning publishing, design, advertising and new media, he's illustrated everything from book covers to advertising campaigns, theme park maps, iPhone Apps and even the odd large scale installation too!
Rod is also the illustrator behind the bestselling Where's Stig? books for the BBC's hit TV show Top Gear. Where's Stig? was the UK's 4th bestselling hardback non fiction book of 2009, and in total the books have sold in excess of 600,000 copies to date. 
Rod served as PR and Media Relations Chair of
ICON The Illustration Conference
for ICON8 (Portland, OR) and ICON9 (Austin, TX) for 4 years until October 2016. He was also Chairman of the Association of Illustrators from August 2009 to March 2012, and was a Director for 9 years. The AOI was established in 1973 to advance and protect illustrator's rights and encourage professional standards.
With his extensive industry knowledge Rod regularly lectures in the UK and Internationally on subjects including Self Promotion for Illustrators, the Business of Illustration and his own career journey, for organisations and art colleges including Children's Books Ireland, Offset (Dublin, Ireland), Pixel Show (Sau Paulo, Brazil), Campus Party (Sao Paulo, Brazil), The Illustration Conference (ICON5 New York & ICON6 LA), Plymouth College of Art, University of Wolverhampton, University of the Arts and The Association of Illustrators.
Pricing:
The pricing for a commission is based on a few factors, including usage of the work, area or territory where the artwork is to be reproduced (for example, UK, EU, USA, World) and how long the use is required.

Agencies:
215 McCann, AMV BBDO, Antidote Design, Clemenger BBDO, Commonwealth McCann, Dixon Baxi, Goodby Silverstein & Partners, Hat-Trick Design, Instinct BBDO, Leo Burnett, Partners Andrews Aldridge, Pentagram, Publicis, Tullo Marshall Warren, Saatchi & Saatchi, TBWA/Paris, VCCP, Wieden + Kennedy, Y&R London
Publishing:
Computer Arts Magazine, Dorling Kindersley, Esquire, Financial Times, Granta Books, GQ, Marie Claire, Maxim, The Observer, Random House, 
Time Inc.
Clients:

 
AIDES, Bank of England, BBC Worldwide, Barclays, British Airways, British Council, British Telecom, Bupa,Capital One, Calor Gas, Circle Line Sightseeing Cruises NYC, Chessington World of Adventures, DEFRA, Gulf Air, Lynx Deodorant, IKEA, Intermarché, Kellogg's, Lyonnaise des Eaux, Lightbox Museum & Gallery, Macmillan Cancer Support, OYO Rooms, Parkinson's UK, Quaker Oats, Red Bull Racing/ Scuderia Torro Rosso, Royal Mail, Tesco, Sony Pictures, Sony Music, Toyota, Transport for London, Vodafone, Visit Blackpool, Whitbread, WWE
Cannes Lions:
Gold & Bronze (Design), Bronze (Health and Wellness) (2018)
The One Show:
Merit - Design - Public Service (2012) 
Clio Awards:
Silver - Print - Public Service (2011)
AOI World Illustration Awards:
Shortlited 2015, 2016, 2017, 2018
AOI Images - Best of British Illustration:
35 Bronze Award - Books (2011), 36 Gold Award - Books (2012). Selected: 27, 28, 29, 30, 31, 32, 33, 34, 35, 36
American Illustration:
29 (2010), 30 (2011), 31 (2012), 34 (2015), 36 (2016), 38 (2018)
Society of Illustrators:
54 (2012) Silver Medal. Selected; 53,56, 57, 58, 59
Society of Illustrators of Los Angeles:
54 (2015)
Communication Arts:
Illustration Annual 52 (2011), 53 (2012). Design Annual (2016)
3x3 - Professional Show:
No.8 (2011), No.9 (2012), No.10 (2013), No.12 (2015), No.13 (2016), No.14 Gold and Merit (2017), No.15 Merit and Honourable Mention (2018)